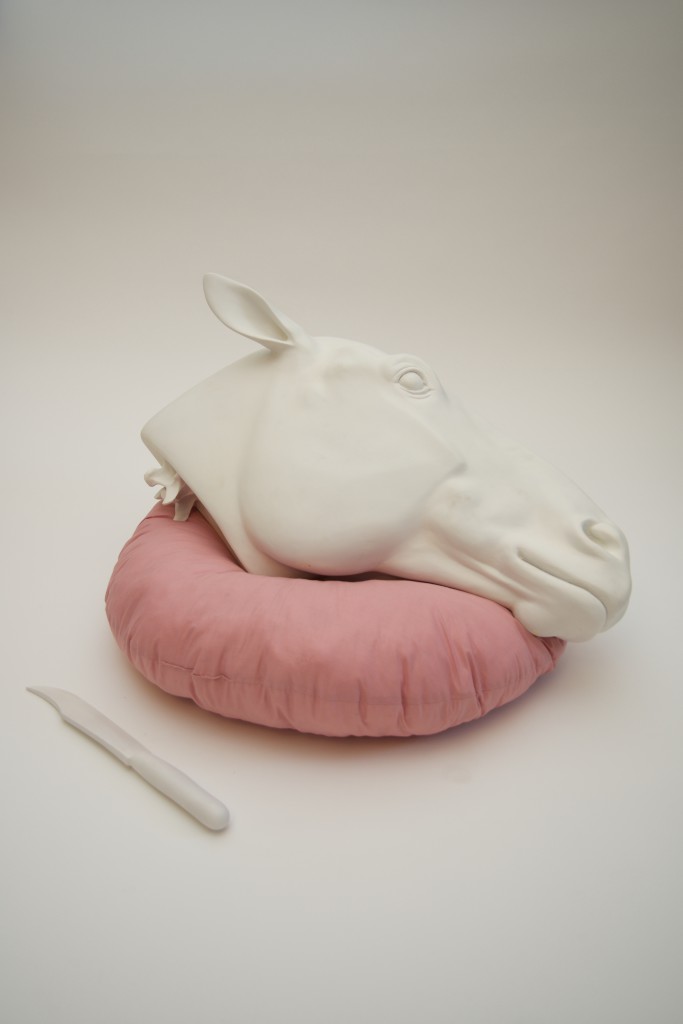 Signe Johannessen researched the relationship between humans and animals in a series of interventions related to her collaboration with Curare Art in Greece.
Starting with the historical role of farm animals and the position of vermin and pests in the tourist town of Chania in Crete, she positioned herself in different power positions. She learned how pets are put down and was present during the slaughter of a white stallion, an experience that became reworked through taking care of the stallion's skin, bones and mane.
Afterwards she created the sculpture Everything is Fine, which became a tribute to the domesticated horse and to the importance of the horse in humankind's dominance of the planet. As this role has largely come to an end, the sculpture acts as a tribute as much as a farewell.
"Working with sculptural objects and drawings, Norwegian artist Johannessen examines evolution, the human race and the life on our planet in general, by looking at our coexistence in order to interpret the behaviour of our culture. To re-connect and close a circle of a childhood memory, Johannessen offered to put a friend's stallion out of its misery after a time of sickness. In a ritual where man's power over nature is clearly pronounced, she decided to keep the head, which is depicted in the sculptural portrait, as a fallen monument over the ambivalent and paradoxical relationship between man and nature. Can a society or life not exist without something dominating over something else? Or maybe nature is required as a sacrifice for our human existence? Using a perspective that extends beyond the personal construction of meaning in our lives, Johannessen reflects upon a future further away, with questions about morality, power, balance and dependence.
Johannessen was the first artist-in-residence of Curare art's new residency program in Chania, Crete in August 2012."

Sofia Mavroudis, Curare art, curator of "Everything is Fine, or the Continuous Search for a Utopia".